- Śrīmatī Vṛndā Devī -                       - Śrīmatī Tulasī Devī -
Tulsi or Tulasī, the holy basil plant (Ocimum Sanctum) as it is know in the west, is considered to be the beloved of Lord Kṛṣṇa. Tulasī means the "incomparable one". It is the plant of devotion and has spiritually uplifting qualities.
(oṁ) tulasy amṛta-janmāsi / sadā tvaṁ keśava-priya
keśavārthaṁ cinomi tvāṁ / varadā bhava śobhane
"O Tulasī, you are born from nectar. You are always very dear to Lord Keśava. Now, in order to worship
Lord Keśava, I am collecting your leaves and mañjarīs. Please bestow your benediction on me to serve the Lord."
Another name of Tulasī is Vṛndā-devī (one who awards residence in Vṛndāvana). Vṛndā-devī is a pure devotee of Lord Kṛṣṇa and an expansion of Śrīmatī Rādhārāṇī. She is responsible for setting up the wonderful pastimes of Śrī Rādhā and Kṛṣṇa in Vṛndāvana. She exists as Tulasī to benefit the fallen conditioned souls by bestowing devotional service to Kṛṣṇa.
Five thousand years ago, when Śrī Kṛṣṇa descended on Earth to perform His pastimes, Vṛndā-devī created the proper environment for His pastimes in Vṛndāvana.
Śrīla Narottama dāsa Ṭhākura says: kṛpā kori' koro tāre vṛndāvana-vāsi, "Dear Tulasī, please bestow your mercy upon me, so that I may forever reside in Vṛndāvana."
Kṛṣṇa's attractive features are also described by Vṛndā, the gopī after whom Vṛndāvana was named. (NoD 26) "The word 'vana' means forest. Vṛndāvana is the name given to the forest where Śrīmatī Vṛndā-devī (Tulasī-devī), grows profusely." (CC Madhya 17.193p.)
Śrīla Prabhupāda: "Tulasī leaf is very, very dear to Viṣṇu. All Viṣṇu-tattva Deities require profusely Tulasī leaves. Lord Viṣṇu likes garland of Tulasī leaves. Tulasī leaves mixed with sandalwood pulp and placed on the lotus feet of the Lord is the topmost worship. But we must be very careful that Tulasī leaves cannot be placed on the feet of anyone else than Lord Viṣṇu and His different forms. Tulasī leaves cannot be placed even on the lotus feet of Rādhārāṇī or on the lotus feet of the Spiritual Master. It is entirely reserved for being placed on the lotus feet of Krishna. We can place, however, Tulasī leaves in the hands of Rādhārāṇī for being placed on the lotus feet of Krishna, as you have seen on the Govinda Album.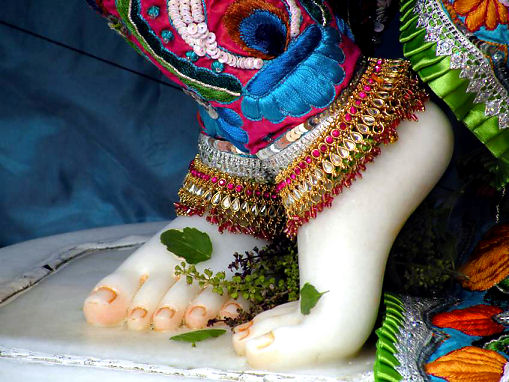 Yes, the leaves of Srimati Tulasi Devi MAY BE OFFERED TO ALL
VISNU-TATTVA EXPANSIONS OF KRSNA, INCLUDING NITYANANDA
AND BALARAMA. (73-01-04 Letter: Dhruvananda) [Viṣṇu-tattva only]
The Worship of Śrīmatī Tulasī Devī
"I am very glad to know that you are seriously taking to Srimati Tulasi Devi worship. Tulasi Devi is a pure devotee of Krishna and she should be treated with the same respect given to all Krishna's pure devotees. Simply by worshipping her faithfully, a devotee can get himself free of from all material miseries. In the Nectar of Devotion I have given two verses from the Skanda Purana, one of which is: "Tulasi is auspicious in all respects. Simply by seeing, simply by touching, simply by remembering, simply by praying to, simply by bowing before, simply by hearing about, or simply by sowing the tree, THERE IS ALWAYS AUSPICIOUSNESS. Anyone who comes in touch with the Tulasi tree in the above mentioned ways lives eternally in the Vaikuntha world." So from this verse we can understand how pure is the service which Tulasi offers to Sri Krishna. So we should always endeavor after becoming servant of Tulasi Devi." (72-01-06. Letter: Radhavallabha)
I am so very glad to learn that Śrīmatī Tulasī Devī has favored you so much. If you can actually grow this Tulasī plant, and I am sure you will do it, then you must know it for certain that your devotion for Kṛṣṇa is testified. I was very much anxious to introduce this worship of Tulasī plant amongst our Society members, but it has not become successful till now, therefore, when I hear that you have got this opportunity, my pleasure does not have any bounds. (SPL  Govinda Dasi, 7 April, 1970 Honolulu)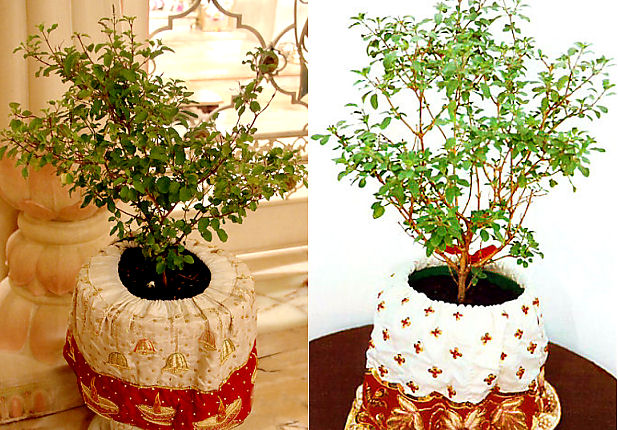 Offering Tulasī leaves together with Kṛṣṇa's food preparation
Tulasī's leaves should be washed three times before offering, and should be kept in a bowl of fresh water inside a refrigerator. If They are not kept like this, They turn limp and pale. If They are kept in water, but not in a refrigerator, They will turn brown. Be sure to change the water in the bowl every day, and clean the sides of the bowl so no film will grow. (Proof that Mother Gaṅgā is actually pure is that Gaṅgā water will not become murky if kept contained.)
Estimate the required amount of leaves needed per day and try to pick about the same amount each day. In that way you will always have a supply, and Tulasī will feel the regularity. (Sometimes in the case of mañjarīs, there will be an extra amount of mercy.) Don' t pick Her leaves sporadically, but aim for the same time, same amount, every day. How many leaves may be safely picked depends on how healthy and bushy She is. If there are hundreds of leaves on Her, it won't hurt to take a few. If there are only 13 or 14 leaves, don' t take any at all unless they are about to drop off. It depends on the size and health of the plant. Use your discretion in the matter.
Śrīla Prabhupāda said that dried leaves are just as offerable as fresh green ones, and the dried leaves should be sent to centers having little or no Tulasī. Extra dried leaves, mañjarīs, etc., may be distributed as needed.
By offering Lord Krishna a single Tulasī leaf, one attains the result of offering Him every flower and leaf that exists. Śrīla Bhaktisiddhānta Sarasvatī Thakur said, "Śrīmatī Tulasī Mahārāṇī is our spiritual master. She is the queen of Śrī Vṛndāvan Dhāma. It is only by her mercy that one can be qualified to enter in Śrī Vrindavana Dhāma. We wear Tulasī Mahārāṇī around our neck, knowing that she is very dear to Lord Krishna. By our allegiance to her, we chant the name of Lord Hari."
CC Adi 3.104
tulasī-dala-mātreṇa / jalasya culukena vā
vikrīṇīte svam ātmānaṁ / bhaktebhyo bhakta-vatsalaḥ
"Śrī Kṛṣṇa, who is very affectionate toward His devotees, SELLS HIMSELF
TO A DEVOTEE who offers Him merely a tulasī leaf and a palmful of water."
Service to Vṛndā Devī is essential:
For devotees aspiring to enter the eternal realm of Vṛndāvan, service to Vṛndā Devī is essential. Śrīla Prabhupāda stressed this by making Tulasī puja a daily part of our morning program. Tulasī-devī is an expansion of Vṛndā Devī in this world. Every morning we pray to Vṛndā Devī:
ye tomāra śaraṇa loy, tara vāñchā pūrṇa hoy
kṛpā kori' koro tāre vṛndāvana-vāsi
"Whoever takes shelter of you, all his desires are fulfilled
and by your mercy he becomes a resident of Vṛndāvana."
Vṛnda-vana
"The word 'vana' means "forest." Vṛndāvana is the name given to the forest where Śrīmatī Vṛndādevī (Tulasīdevī) grows profusely." Actually it is not a forest as we ordinarily consider a forest because it is very thick with green vegetation. There are twelve such vanas in Vṛndāvana. Some are located on the western side of the Yamunā and others on the eastern side. The forests situated on the eastern side are Bhadravana, Bilvavana, Lauhavana, Bhāṇḍīravana and Mahāvana. On the western side are Madhuvana, Tālavana, Kumudavana, Bahulāvana, Kāmyavana, Khadiravana and Vṛndāvana. These are the twelve forests of the Vṛndāvana area. (CC Madhya 17.193p.)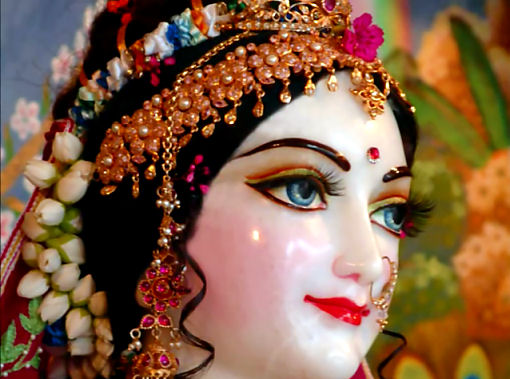 Śrīmatī Vṛndā Devī
The Expert Services of Vṛndā-devī
Among all these gopī messengers Vṛndā-devī is the best. She is expert at arranging the meeting of Rādhā and Krishna and she is fully conversant with the geography of Vṛndāvana, knowing the best places for the Divine Couple's rendezvous.

Vṛndā-devī has a beautiful complexion the color of molten gold. She wears blue garments and is decorated with pearls and flowers. Her father is Candrabhānu and her mother is Phullara-devī. Her husband is Mahīpāla and her sister is Mañjarī-devī. She always remains in Vṛndāvana, immersed in love for Rādhā and Kṛṣṇa and yearning to both arrange for Their meeting and taste the nectar of assisting in Their transcendental pastimes. (Śrī Śrī Rādhā-Kṛṣṇa-gaṇoddeśa-dīpikā -Text 88, 95-97)
THE PRESENCE OF TULASI IS PROOF OF TRUE DEVOTIONAL ATMOSPHERE
I am very glad to learn that you have begun worship of Tulasi in your Toronto Temple. THE PRESENCE OF TULASI IS PROOF OF TRUE DEVOTIONAL ATMOSPHERE THERE. Please offer Her all respects and carefully tend and Srimati Tulasi will be pleased upon you in gaining the auspicious favor of the Lord. (70-12-29. Letter: Jagadisa)
Yes, Krishna is providing everything. Krishna is so kind. As you require something for His service, he provides it. And Tulasi Devi is growing so nicely there. TEND TULASI VERY NICELY AND YOUR DEVOTION TOWARDS KRISHNA WILL INCREASE. IN THE EVENING A LAMP SHOULD BE OFFERED TO THE TULASI PLANT AND IN THE MORNING EACH DEVOTEE SHOULD OFFER A LITTLE WATER AND OFFER OBEISANCES. (71-04-11. Letter: Krsnakanti)
I have heard that your good wife, Patty is growing Srimate Tulasi devi there at your house with good success. That is another very auspicious sign. THE TULASI, SHE WILL NOT GO TO LIVE WITH ANYONE NON-DEVOTEE, AND BECAUSE SHE IS GROWING SO PROFUSELY, THEREFORE SHE IS GIVING YOU HER BEST FAVOR BECAUSE YOU ARE BEST DEVOTEE, THAT IS TO BE UNDERSTOOD. (73-01-04 Letter: George)
I am so glad to hear how nicely Tulsi is growing. That is the sign of substantial devotional service. Every center should be encouraged to grow Tulsi. IF THERE IS ANY IMPEDIMENT IN GROWING TULSI, THAT MEANS THAT DEVOTIONAL SERVICE IS DEFECTIVE. (71-07-09. Letter: Gaura Hari)
The picture of tulasi is especially indicative, BECAUSE IF TULASI GROWS LUXURIANTLY THAT PROVES THE SINCERE DEVOTIONAL SERVICE OF THE PLACE. (73-07-20 Letter: Nityananda)
750801SB.NO  Lectures
So I am very glad that you are seriously interested, and Krsna is pleased upon you. And that you are sincerely trying, I can understand from these tulasi plants. Yes. THIS IS THE PRACTICAL DEMONSTRATION. UNLESS THERE IS BHAKTI, THIS TULASI PLANT WILL NOT GROW. We must be very much thankful to our Govinda dasi. She first of all cultivated the tulasi plant in Hawaii. And now our tulasi plants are distributed. SO SHE HAS DONE A GREAT SERVICE. I THINK I GAVE HER THE SEEDS, AND SHE VERY NICELY DONE IT. NOW EVERYWHERE WE SEE TULASI PLANT. IT IS VERY PLEASING. SO THE SAME THING--DEITY WORSHIP AND WATERING THE TULASI PLANTS, CHANTING SIXTEEN ROUNDS AT LEAST, AND OBSERVING THE RULES AND REGULATION, REGULATIVE PRINCIPLE... THEN YOUR LIFE IS SUCCESSFUL. DON'T NEGLECT. VERY SERIOUSLY CONTINUE. AND IN THIS ONE LIFE YOU ARE GOING BACK TO HOME, BACK TO GODHEAD. IT IS SURE. I AM NOT FLATTERING YOU. KRSNA SAYS, MAN-MANA BHAVA MAD-BHAKTO MAD-YAJI MAM NAMASKURU, MAM EVAISYASI ASAMSAYAH. ASAMSAYAH, "WITHOUT ANY DOUBT, SIMPLY FOLLOWING THESE RULES AND REGULATION," MAM EVAISYASI, "YOU COME BACK TO ME."
http://www.govindadasi.com/tulasi-devi-beloved-of-krsna.html
« NEXT »